Rent Event modules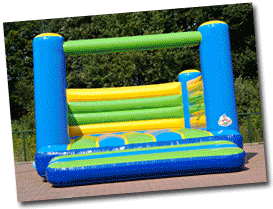 Bouncy Castles, footbal modules, Attractions & Co


Event modules are indispensable in modern times in the Eventpart anymore.


Not only as an advertising medium for businesses, but also as an interactive attraction for children, they are an absolute hit at every event. Event modules are versatile and always have a lot of attention. Event modules or bouncy castles should not be absent during a corporate event.
In EVEPROCOM you get a variety of modules, event, fun-modules, attractions, football playground equipment and simulators, as well as Eycatcher and alarm systems. You can rent this Eventmodule buy, or to produce individually.
With us you can from the goal wall, rodeo bull is on loan, trampolines to huge obstacle courses, and giant kicker / kicker all the people that their hearts. Not only for the young guests Eventmodule as inflatables or modules, such as soccer goal wall and foosball really appreciated.
EVEPROCOM offers a diverse range of play equipment including a complete full service with professional entertainers, games, moderators and its pan-European logistics. On request we can adapt to surge you have booked Eventmodule well as its corporate identity.
Make the most contact with us and get free advice from our professional team.
Service-Hotline + 49 (0) 2166 - 13 99 54